Judgment
...now browsing by tag
Thursday, November 3rd, 2016
Wednesday, April 23rd, 2014
Sometimes an answer is not an "either or", or even "yes or no" but both.  It can depend upon circumstances.  For example, is it right or wrong to eat peanuts?  It could be right and a source of protein if you like them.  But it could be very wrong and life threatening if you have an allergy to them.
So often we hear that a Christian is "not to judge".  Is this entirely true in light of God's complete revelation in the Bible?  True, the Lord Jesus says, "judge not", but then He goes on to say, "but judge righteous judgment".  So which is it?  Both!
The Greek word for "judge" is anakrino or krino.  Krino means to pick out, select, conclude, decide, choose, approve or disapprove.  Anakrino means to discern, examine, question and scrutinize.  Don't we in our daily lives make continual judgments – from medicines, good or bad food, the right partner for life to the best value for our money? What government exists that doesn't have law and order, and judges its offenders?
FOUR AREAS WE ARE NOT TO JUDGE
1.  Heart Motives.  We can't know what a person is thinking as to why he might be doing an action. Without having further knowledge we should not reach conclusions.  1Cor. 4:3, 5
2.  Outward Appearances.  We must not judge how something appears to look on the outside without further evidence of righteous facts.  John 7:24, 1Sam. 16:7
3.  Another's Liberty.  Each man answers to God, not us, on personal matters of liberty concerning things like celebrating days, wine, foods, etc.  Rom. 14: 2, 13
4.  Another's Actions IF You are Doing the Same Thing.  It is hypocritical to judge something in your brother's eye when you are doing something similar.  Matt. 7:1, 3
FOUR AREAS WE ARE TO JUDGE
1.  Ourselves.  We are to always judge what is right or wrong in our lives.  1Cor. 11:31
2.  Actions that are the Best.  Just like we make judgments on a banana if it is the best value for the price, we are to judge what is the most excellent decision.  Philp. 1:9, 10
3.  Doctrine.  It is not we who make a judgment on truth but we simply trust God's judgment of what is true and false as revealed by His Word of truth.  1Cor. 14:29 / 1Ths. 5:20-21
4.  Sin in the Church.  While the church is not to judge the world with punishment, it is to judge "believers" living in active sin by excommunication for a time.  1Cor. 5
May we have courage to judge, and yet love when not to judge, to be used of the Lord.
Thursday, February 28th, 2013
"And the kings of the earth, the great men, the rich men, the commanders, the mighty men, every slave and every free man, hid themselves in the caves and in the rocks of the mountains, and said to the mountains and rocks, 'Fall on us and hide us from the face of Him who sits on the throne and from the wrath of the Lamb!'" Rev. 6:15-16
Recently the eminent jurist Geoffrey Robertson, QC was interviewed on the British classical music radio program "Essential Classics."[1] One of his anecdotes regarding a case where he served as a judge caught my attention, for it reminded me of the verses at the head of this post. When a burglar was brought before him, he had to recuse himself, because the first crime the defendant confessed to was the theft of the judge's personal computer. The Guardian picked up the story and ran the headline: "Burglar meets his victim: his judge." Obviously Robertson removed himself from the case in order to avoid the appearance of personal bias perverting the course of justice. In a sense this incident reflects the biblical reality that all men will meet their judge sooner or later. Amazingly, mankind's judge was once also its victim on a particularly historic day millennia ago.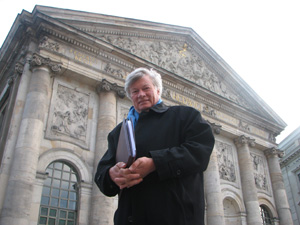 http://www.artemisfilms.com/images/GR-04web_000.jpg
Enter The Lamb
In the first century A.D. the Son of God came to earth; men know Him by the name of Jesus of Nazareth, but His Father exalted Him as Lord and Christ (Acts 2:36.) John the Baptist gave Him another title, saying to his disciples: "Behold! The Lamb of God who takes away the sin of the world!" (Jn. 1:29.) The concept of a sacrificial lamb was familiar in Jewish history and thought. Abraham promised that God would provide a lamb for His own holy satisfaction (Gen. 22:8, 14.) When the LORD delivered Israel from slavery in Egypt, He called for them to use a lamb's blood to symbolically shield them from the divine wrath falling upon that land (Ex. 12:3-17.) Ever after that dramatic night the Passover would be associated with the offering of a lamb. The Levitical offerings also made use of sacrifices from "the flock" (e.g. Lev. 3:7; 4:32, 35, etc.) Thus clear sacrificial overtones were in view when the forerunner used the metaphor of a lamb to describe the Messiah Jesus.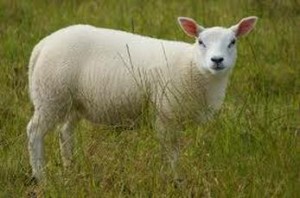 The Lord Jesus came to earth for the express purpose of dying as a sacrifice to God the Father for people's sins (Phil. 2:5-11; Heb. 9:14.) His teaching and healing ministry was part of the ongoing revelation of God's character and purposes.  The Almighty was demonstrating His holiness, righteousness, love, and mercy in the person of His incarnate Son. Instead of responding to this divine disclosure positively, men rejected the Lord Jesus. His moral perfection showed the bankruptcy of human religion and stripped away the carefully cultivated self-righteous facades of scribes, Pharisees, and Sadducees. The secrets of fallen and sinful human hearts were revealed – hypocrisy was exposed, pride was cast down, and the myth of human self-sufficiency was destroyed. Many people despised Jesus for His goodness toward those who were open sinners. Others refused His grace, thinking that they were sufficient to stand before God on their own merits. Eventually, Jews and Gentiles combined to execute Jesus in the cruelest manner known to them: crucifixion.
Crimes Against Deity
Yet in spite of their wickedness, the Lord Jesus willingly went to the cross. True, He was a victim, but one must add: He was a willing victim. As He avowed: "Therefore My Father loves Me, because I lay down My life that I may take it again. No one takes it from Me, but I lay it down of Myself. I have power to lay it down, and I have power to take it again. This command I have received from My Father" (Jn. 10:17-18; emphasis mine.) Though men wickedly crucified Him, He voluntarily died and rose again to fulfill His Father's plan (1 Cor. 15:3-8.) In the aftermath of His resurrection, many people believed on Christ by receiving Him as their Lord and Savior (Acts 2:41; Acts 6:7.) Others rejected Him, preferring to die with uncertainty and take their chances before God's great white throne of judgment. This was a foolish option, for the verdict is not in doubt (Jn. 3:18.) To trust in the Lord Jesus as one's "Passover lamb" is to rest in His finished work of salvation that delivers one from divine wrath and eternal perdition in hell (Jn. 5:24; 1 Cor. 5:7-8.) Such a one says: "The Lord Jesus is my lamb; He died and rose for me!"
All Rise, The Judge Enters
Some day the Lamb will return to earth. But this time He is not coming to die and save; rather He is coming to judge and execute wrath on those who have refused His light and grace. People will seek shelter in vain, crying out for some hiding place from the holy gaze of the Son of God. He will be the judge – one who was once a victim; one who once suffered the grossest injustice in world history. He loves righteousness and hates iniquity. He is immune to bribery. As the omniscient Son of God, He will not be fooled by legal sophistry or chicanery. He will not cease until He fills the universe with the knowledge of God and roots out all evil, judging it appropriately. The Lord Jesus will bring in a new heavens and new earth wherein righteousness dwells (2 Pet. 3:13.) Will you meet the Lamb as your Lord and Savior? Or will He be your judge?
[1]BBC Radio 3, "Essential Classics," hosted by Rob Cowan: http://www.bbc.co.uk/programmes/b01qqfly  Aired 18 February, 2013.