salvation
...now browsing by tag
Thursday, August 17th, 2017
Sunday, July 9th, 2017
"And when all things shall be subdued unto him, then shall the Son also himself be subject unto him that put all things under him, that God may be all in all." 1 Corinthians 15:28
"That God may be all in all' is the basis of all apostolic doctrine, from which it sets out, and into which it returns, and round which it revolves. 'Of Him, and through Him, and to Him, are all things,' is the refrain of the apostle's songs; a refrain which the whole early Church took up and sung with so loud a harmony, that the sound went over earth, and pagan nations awoke, startled at the name of the one living and true God, King eternal, immortal, and invisible, the only wise God, so different from their Jupiter, their Mercury, and other such false and unclean gods. The burden of these doxologies is: Glory to that eternal Jehovah who worketh all in all, who filleth all in all.
God is the doer as well as the purposer of everything connected with the Christ, and of everything relating to the redeemed and their connection with the Christ, who is the centre of all His purposes and desires. The Church is His creation. Each saint is His creation. There is no religion in a man save that which originates with Him, and is consummated by Him. Religion that is self-made, consisting of doctrines, feelings, rites, self-taught and self-wrought, is no better than ancient paganism. 'We are His workmanship, created in Christ Jesus unto good works, which God hath before ordained that we should walk in them' (Eph. 2:10): that is, we are His workmanship, not our own (ver. 8); nay, we are His 'creation,'1 nay, His creation in and by Christ Jesus; and all this for 'good works,' for which God had made all this vast preparation, 'that we should walk in them.'
Thus God is in Christ purposing concerning us; for Christ and the redeemed are inseparable in the eternal purpose of the Father. That purpose embraces both, and embodies the mutual relationship of the one to the other. It contemplates also, and makes preparation for, the holiness of each redeemed one, as well as for the perfection of the whole Church of God; as it is written, 'Who hath saved us, and called us with an holy calling, not according to our works, but according to His own purpose and grace, which was given us in Christ Jesus before the world began, but is now made manifest by the appearing of our Saviour Jesus Christ' (2 Tim. 1:9, 10).
Thus God is in Christ working concerning us; for all His operations for us and in us are in connection with the Christ. From the first touch of His hand, when He arrests us in our folly, to the last, when He finishes the glorious work in the resurrection of our bodies, all His doings concerning us are 'in Christ.' 'He created all things by Jesus Christ,' is as true of the new creation as of the old. He is the former of all things, the Lord of Hosts is His name. Each hour bears witness to the unceasing and unwearied touches of His hand in moulding us anew after His own image. And all this is the working and the purposing of 'love,'—the love of God which is in Jesus Christ our Lord. And all this to the praise of the glory of His grace, that God may be all in all.
Thus God is in Christ reconciling us to Himself; for the reconciliation comes through this living channel, and this only. God approaches us in Christ, lays hold on us in Christ, looks at us in Christ, makes proposals to us in Christ, links us to Himself in Christ. 'You hath He reconciled in the body of His flesh through death' (Col. 1:22). The reconciliation of the covenant is Christ Jesus our Lord. Save in Him, there is no nearness, no favour, no friendship, no fellowship. The one Mediator is the one reconciler, through whom God says to us, 'Come unto me;' and as there is but one mediation, so there is but one atonement, one propitiation, one reconciliation; one cross, one blood, one death, one burial, one resurrection. For in each of these Christ is all. 'He of God is made unto us wisdom, and righteousness, and sanctification, and redemption.'"
1 The words 'creation' and 'workmanship' remind us of the expressions used in reference to the first creation, 'His work which God created and made' (Gen. 2:3).
Horatius Bonar, The Christ of God. (New York: Robert Carter & Brothers, 1874), 144–147. [Italics original.]
Sunday, July 2nd, 2017
"Thou, O Jesus of Nazareth, hast come to seek and save that which was lost. Thy name is 'Saviour, Christ the Lord' (Luke 2:11); 'God my Saviour' (Luke 1:47); the 'Saviour of the world' (John 4:42); 'God our Saviour' (1 Tim. 1:1); 'Our Saviour Jesus Christ' (1 Tim. 1:10). Salvation is linked with Thy name, Thy person, Thy work, Thy life, Thy death, Thy resurrection. Saviour of the lost, we own Thee, O Christ of God.
'Who hath saved us' is the song we sing (2 Tim. 1:9); to Him who is 'able to save to the uttermost' (Heb. 7:25). He 'came into the world to save sinners' (1 Tim. 1:15). 'The Son of man came to seek and to save that which was lost' (Matt. 18:11); and 'by grace we are saved, through faith' (Eph. 2:5). We preach Christ the Saviour of sinners, and say: 'Believe in the Lord Jesus Christ, and thou shalt be saved' (Acts 16:30); for there is no salvation in any other, nor any other name given under heaven, whereby we must be saved (Acts 4:12). As the deliverer, He saves. As the looser of bonds, He saves. As the forgiver, He saves. As the justifier, He saves. As the shepherd, He saves. As the quickener, He saves. As the propitiation, He saves. The whole completeness of that which we call salvation is to be found in Him, without stint, or lack, or grudging. In His fulness is salvation, just such as a lost one needs;—deliverance from all evil, and the possession of all good.
His willingness to communicate what He possesses, is as boundless as His fulness. He loves to give; nay, He giveth to all men liberally, and upbraideth not. He is clothed with the garments of salvation (Isa. 61:10), and He delights to impart that salvation to all who need it. Out of His lips goeth the word of salvation (Acts 13:26), that all who come within the sound of His voice may hear and live (Isa. 55:3). He is the author of eternal salvation (Heb. 5:9), and He presents Himself as such to the lost. His long-suffering is salvation (2 Pet. 3:15); for He waits upon the sinner, not willing that any should perish, but that all should come to repentance. His Holy Scriptures are able to make us wise unto salvation, through faith which is in Himself (2 Tim. 3:15). The Father hath 'set Him to be a light of the Gentiles, that He should be for salvation unto the ends of the earth' (Acts 13:47). Thus, then, He speaks to us, and says: 'Look unto me, and be ye saved, all the ends of the earth' (Isa. 45:22). This is the salvation and this is the Saviour of whom we preach, in preaching 'the Christ of God.' 'Christ Jesus came into the world to save sinners,' is our message;—and how shall we escape if we neglect so great salvation?
All that salvation is we do not, cannot know, now; but we shall know hereafter. There is so much to be saved from; there is such manifold fulness in the Saviour; and there is, over and above the mere salvation, such a glory, and honour, and blessedness in reserve for the saved, that we may truly say that we know not, and shall never fully comprehend, what salvation is. The 'wells of salvation' (Isa. 12:3) are very deep. The heights of salvation are very lofty. The circle of salvation is very large. The joy of salvation is satisfying and exuberant. And all this is so free and rich, that we can only say it is infinitely worth the having; all things which eye hath seen, or ear hath heard, are not to be compared with it. He who gains it, gains all that is worth the having; he who loses it, loses everything, and is left inconceivably and eternally poor."
Horatius Bonar, The Christ of God. (New York: Robert Carter & Brothers, 1874), 104–107. [Italics original.]
Monday, June 3rd, 2013
"Now when Herod saw Jesus, he was exceedingly glad; for he had desired for a long time to see Him, because he had heard many things about Him, and he hoped to see some miracle done by Him" Luke 23:8.
Rather than seeking Christ to inquire concerning the truth about the world, humanity, and the Creator God, Herod merely wanted to satisfy his idle curiosity. To him the Lord Jesus' miracles were not signs authenticating His deity and Messiahship; instead they were magic tricks meant for his royal amusement. He wanted to manipulate his notable prisoner into performing instead of preaching; of course, that is exactly what the Lord would not do. Jesus Christ is not a pawn and life is not a game. In order to accomplish the purpose for which they were created, human beings must bow to the King of kings and Lord of lords who alone gives eternal life.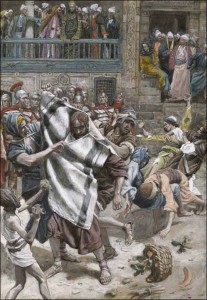 *Image: James Tissot, "Jesus before Herod"; found here: http://www.joyfulheart.com/easter/images-tissot/tissot-jesus-before-herod-513×743.jpg Accessed on 6/3/13.
Trivializing The Ultimate Truth
Many moderns reenact Herod's tragic mistake by thinking that they have heard about Christ and therefore know all about Him. But hearsay is notoriously unreliable. One may hear that Christ was a good teacher or a moral man, and the gospels bear this out – yet it is not the whole truth. Jesus was "God manifested in the flesh" (1 Tim. 3:16.) He was a real, sinless man; yet He was also God walking in our midst (1 Tim. 2:5; Jn. 1:14; Phil. 2:5-8.)
As God incarnate the Lord Jesus is incapable of being maneuvered by humans into doing what they want. During His earthly ministry, He steadfastly held to God the Father's will and timetable. Thus, He was born, died, rose again, and ascended back to heaven all according to the schedule preordained from before the foundation of the world (e.g. 1 Pet. 1:10-12; Titus 1:2-3.) For a puny would-be potentate – in reality a dissipated, vacillating puppet of the Roman overlords – to suppose that he could make Christ perform on demand was ludicrous. The Lord Jesus is not malleable to men's perverted notions.
Checkmating Ourselves
Far too many moderns reduplicate the same mistake in different forms. They suppose that Jesus is there to be reinterpreted according to their thinking. Rather than a holy God who "…commands all men everywhere to repent," they suppose that He is a grandfatherly type of being who would never dream of separating anyone from Himself for an eternity of punishment. Or they simplistically think that He indulgently turns a blind eye to our sinful desires and thought-life. To others, the Lord is little better than a life-ring to desperately grasp when they get into trouble, or a miracle-working genie whom we may call upon to gratify our desires for the sensational or the supernatural.
The Lord Jesus Christ will not submit to a chess game of our own devising. He is not a pawn, but a king. Bearing this in mind, our legitimate response must be to bow to Him and say "God be merciful to me a sinner" (Lk. 18:13); and "My Lord and my God" (Jn. 20:28)!  Afterwards we say, "Speak Lord, your servant is listening" (1 Sam. 3:10) and "Lord, what do you want me to do" (Acts 9:6)? This is the best kind of life: one lived in obedience to our Lord and King.
Monday, February 28th, 2011
TO DOWNLOAD THE ARTICLE IN PDF., CLICK HERE: The High Cost Of Liberty
"The Spirit of the Lord is upon Me, Because He has anointed Me to preach the gospel to the poor; He has sent Me to heal the brokenhearted, To proclaim liberty to the captives And recovery of sight to the blind, To set at liberty those who are oppressed; To proclaim the acceptable year of the Lord." Luke 4:18-19
The author of the American Declaration of Independence, Thomas Jefferson once penned the following regarding armed revolution:
We have had 13 states independent 11 years. There has been one rebellion. That comes to one rebellion in a century & a half for each state. What country before ever existed a century & half without a rebellion? & what country can preserve it's [sic] liberties if their rulers are not warned from time to time that their people preserve the spirit of resistance? Let them take arms. The remedy is to set them right as to facts, pardon & pacify them. What signify a few lives lost in a century or two? The tree of liberty must be refreshed from time to time with the blood of patriots & tyrants. It is it's [sic] natural manure.[i]
Despite this incendiary rhetoric and all of his contributions to the founding of the United States of America, Jefferson never shed a drop of his own blood to create or defend liberty.
You Say You Want A Revolution?
The recent unrest in Tunisia, Egypt, Libya, Iran, and other despotically ruled nations once more shows the innate human desire for freedom from tyranny. It remains to be seen whether these protests will produce political situations where freedom may flourish. Yet on a higher level the Lord Jesus Christ "preached freedom for the prisoners…to release the oppressed" through the shedding of His own blood (Luke 4:18; Eph. 1:7.) He was willing to suffer the heinous torture of crucifixion in order to free repentant sinners. Rather than sending others to die for spiritual liberty, Christ Himself gave His life on the cross. By pouring out His blood He paid the redemption price to liberate people from the tyranny of sin, Satan, the grave, and hell. His resurrection shows that the rescue has been accomplished. Only the Lord Jesus can grant true eternal freedom to lost sinners.
To obtain "a better resurrection" many of the Lord Jesus' followers have suffered physically and emotionally (Heb. 11:35.) Old Testament Israel experienced tremendous oppression from numerous occupying powers. As a nation Israel currently disbelieves in their true Messiah Jesus ("Yeshua" as His name is in Hebrew); for them the "times of the Gentiles" continue (Lk. 21:24.) They will not recognize Him until He comes to defend and rescue them from the ire of the nations at the end of the Tribulation period (Zech. 12:1-13:1; Matt. 23:37-39.)
Freedom Worth Suffering For
Today millions of Christians around the world continue to suffer and die for their faith; yet their stories often go unreported in the western media. Nonetheless, one day the great Deliverer the Lord Jesus Christ will come to rescue His servants from those who mercilessly persecute them (2 Thes. 1:4-10.) What is more, He will liberate both them and the creation itself from the bondage and pain that sin produces in this world (Rom. 8:14-24.) The freedom that Jefferson and other people pine for is but a pale reflection of the far greater program of liberty that God will inaugurate through His peerless Son. His work will encompass every nation and extend far beyond this planet as it currently is (Rev. 21-22; Isa. 9:6-7.) If you have never done so, call on Him for salvation, confessing your hopeless condition as a sinner, and He will save you (Rom. 10:9.) Or if you already have received Christ as your Lord and Savior, continue on in the struggle – "fight the good fight of faith" (1 Tim. 6:12)! The kingdom that God will establish in the age to come is worth suffering the loss of everything in this age (Acts 14:21-22; Matt. 16:24-27; Mk. 10:30.)[ii]
---
[i]
Thomas Jefferson, "Letter to William S. Smith, 13 November 1787;" accessed here on 2/28/11:
http://odur.let.rug.nl/~usa/P/tj3/writings/brf/jefl64.htm
; emphasis mine.
[ii] An abbreviated version of this article originally appeared on the Carryduff Gospel Hall website (http://www.carryduff.org/ ) the week of February 21, 2011.
Wednesday, February 9th, 2011
TO DOWNLOAD IN PDF., CLICK HERE:Only one will not do
Today, February 9th, is the birthday of notable historical figures such as the 9th President of the United States, William Henry Harrison, and the 18th century philosopher and political agitator – not to mention inveterate infidel – Thomas Paine.  Contemporary figures such as Senator Jim Webb of Virginia, the diminutive actor Joe Pesci, and the actress Mia Farrow were also born on this date.  More pertinent to my situation: 38 years ago today I was born in Pottstown, Pennsylvania, USA.  This birth was somewhat surprising because I arrived 3 months early (I've always been partial to dramatic entrances!)  The local doctors looked at this scrawny baby who weighed a mere 2 pounds 7 ounces and opined that I only had a 30% chance of surviving.  Happily, there is a God who rules over all and determines the times appointed for men.  Thus, in His sovereign mercy He spared my life.
A Mother's Faith & A Faithful God
Although premature and suffering from cerebral palsy – which would go undiagnosed until I was nearly two – I enjoyed many blessings.  My chief advantage was to be born into a household where the parents were devout Christians who had a personal relationship with the Lord Jesus Christ and knew the value of intercessory prayer.  Anyone who has met my parents knows that my father is louder, larger, and much more forceful than my mother.  Nonetheless, in the early moments of my life it was my faithful Christian mother who offered a "Hannah prayer" to the Lord.  Those unfamiliar with this great woman of faith, Hannah, can consult 1 Samuel chapters 1 and 2.  Hannah prayed that the Lord would give her a son so that she could give him back to the Almighty for His service.  Similarly, my mother said, "Lord if you spare the boy's life, I'll give him back to You for Your work".  I did not learn of this prayer for many years.  It was only after I began preaching and teaching from the Word of God that she told me of her "bargain" with the Lord.  In His grace, He honored that prayer and I have now been preaching His Word for over 20 years, spending nearly 12 of those in full time service for His glory.
Of course, my second birthday occurred 7 years after my first.  Thanks to the faithful witness of my parents as well as countless sermons heard in our local church, I was well-acquainted with the story of the Lord Jesus Christ.  I knew that there is a God who sent His Son into the world to die on the cross for sinners (1 Tim. 1:15.)  I also knew that not having the Son of God as my Savior left me in the dreadful state of being under the righteous condemnation of God for my sins (John 3:36.)  As a boy of 7, alone on my cousin's porch, I simply asked the Lord to save me based on what His Word said: that His Son died for me and rose again so that I could be given eternal life.  John 3 famously describes the conversion experience as being "born again".  It could also be translated "born anew" or "born from above".  2 Corinthians 5:17 assures us that if anyone is in Christ, he is a new creature.  On that summer's day I passed from a state of spiritual death – that is alienation from God and His life – to a state of spiritual life – knowing God through His Son the Lord Jesus Christ (John 5:24; John 17:3.)
Happy Birthday To Me (Twice)
So on this day, my 38th birthday, I give thanks to God for His mercy and grace towards me: for allowing me to receive the Lord Jesus as my Savior and serve Him throughout my adolescence and adult life.  In my local church when someone has a birthday, we often sing a second verse to the well-known birthday chorus; the lyrics are as follows:
Happy birthday to you, only one will not do!
Born again means salvation, how many have you?
I am so thankful to write that I have 2 birthdays.  The natural one on February 9th, and the spiritual one on a specific day whose date I have forgotten from the summer of 1980.  Nonetheless, Christ lives within me and I live in Him (Col. 1:27; Rom. 8:1.)  If you cannot say that you have two, I urge you to read John 3 and consider where you stand with the Lord.  If you are to be saved from your sin and gain eternal life, you must receive the Lord Jesus Christ or to put it as He did, "you must be born again" (John 3:7.)